Bwlchgwynt - meaning Windy Gap/Pass

Plaque set into Vestry side wall:
BWLCHGWYNT
FIRST BUILT 1756
REBUILT 1799
ENLARGED 1841
ALTERED 1861
NEW SEATED 1883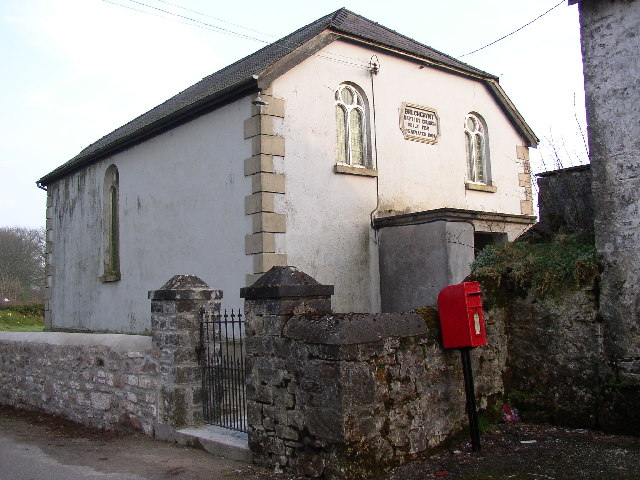 A plan of extension of old Bwlchgwynt graveyard 1885
c. Pearl and Bill Harries
The following is taken from The History of Whitland by Rev'd William Thomas [1868] (translated into English by Ivor Griffiths)
Origins
Bwlchgwynt was built near Pal Mountain.
The 'cause' was stared here by the ministers of Molleston and Rhydwilym. The ministers of the two churches preached here periodically for many years. The connection remained from 1756-1794.
Members formed their own church here on 29th October 1794.
When incorporated the church only had 21 members, 19 from Molleston and two from Rhydwilym. They were supported by ministers from the mother churches for four years after incorporation, i.e. until 1798.
In 1817 the Baptists held a Great Assembly at Bwlchgwynt.
In 1834 Bwlchnewydd received permission from Bwlchgwynt to be incorporated as a regular church on its own, but under the same minister.
Ministers form Bwlchgwynt were expanding their territory and would preach in Whitland on Sunday nights. Baptists had been preaching here for about forty years before this at the Swan Inn on alternate Sundays with Henllan and Bethlemhem but had given up the work for many years.
The work was re-started by Messrs Davies and Thomas in 1845 and they preached in the Fisher's Arms (the house of Mr Hughes for many years).
The result of this preaching in Whitland was the building of Nazareth in Whitland in 1849 which opened in 1850.
John Thomas d. 1860 aged 60, buried at Bwlchgwynt,
and one of the founders of Nazareth Chapel
c. Keith Bowen
All members of Bwlchgwynt living at Trevaughan and its vicinity left to form the church at Nazareth.
with a marvellous cake depicting Bwlchgwynt Chapel
c. Clifford James
Some Ministers
Rev'd WIlliam Williams (from Maenclochog) was ordained in 1798. There were also three deacons: Benjamin Phillips (Garnwen), Theophilus Thomas (Blaenlliwe) and George Thomas (Gelli y Beili).
Rev'd Williams also oversaw the opening of Bwlchnewydd.
For a period Sunday services were held at Bwlchgwynt in the morning and Bwlchnewydd in the afternoon, with the sacrements in both places. Later morning and afternoon services were held in both places on alternate Sundays.
Rev'd Williams served at Bwlchgwynt for 32 years and gave up in 1830 because of old age.
Rev'd Owen Williams was ordained in 1829 as an assistant to the old minister but served only until 1832.
Rev'd Zerubabel Davies was ordained in 1836, but did not serve here for long as he went to Australia.
The Rev'd D.Evans of Login preached successfully here for a while and baptised many.
Theophilus Thomas 1802-1874, Blaenlliwe, and David Davies 1818-1878 of Tycoch were members of Bwlchgwynt and were ordained as ministers of Bwlchgwynt and Bwlchnewydd on 4th May 1844.
Rev'd D.Davies
c. Ivor Davies
(
From Ivor Davies, grandson
) Baptised at Llanddowror December 12th 1818. Baptist minister around 1840 for Bwlchgwynt and others, a travelling minister. Known as 'Dai Twice'. Died July 7th 1878.
Rev'd D.Davies buried at Bwlchgwynt
c. A.A.Thomas
Rev'd Morgan Jones
c. Clifford James
1876-1944
Served both Nazareth and Bwlchgwynt from 1906.
In 1937/8 he occupied the Chair of the Welsh Baptist Union. Four year's later Rev'd Jones attended the World Baptist Conference in Philadelphia.
Rev'd Alun Davies
Alun Davies - tall gentleman in centre
c. Clifford James
Rev'd H.Roberts
c. Clifford James